Introducing BMW Genius. Everywhere.
To help you enjoy everything your BMW has to offer, a team of BMW Geniuses are available to provide you with helpful product information and to answer your questions wherever you are - in our Lauderdale BMW of Fort Lauderdale center, via your smart phone or tablet, or by calling the BMW Genius Hotline!
Meet our BMW Product Geniuses: Kelly McNeill and Aliyah Walker 
At our state-of-the-art BMW Center in Fort Lauderdale, you'll now find product experts who will assist you in finding the perfect vehicle to suit your lifestyle and needs. The BMW Genius is specially trained to demonstrate and help you get familiar with all aspects of your BMW - before, during, and after your purchase. Meet Kelly McNeill and Aliya Walker our BMW Product Geniuses! Kelly and Aliya are filled with an amazing amount of product knowledge without any sales pressure. Do you have a question about entering an address in your Navigation? Or a question on how to pair your new phone to your BMW? How about accessing BMW Apps? They are your go-to experts who will be able to assist you on all of your "Ultimate Driving Machine" needs! Stop by our dealership today and visit our BMW Geniuses! 
BMW Genius App
The BMW Genius App is the all-new way to learn about your BMW on your tablet and smart phone. This app provides you with how-to videos about key features and functionalities, as well as model specific product information. The better you know your BMW, the more you can enjoy the benefits of BMW's class leading innovations. If you don't have time to visit our BMW Center and our BMW Geniuses, Tiffany Lopez, Yanet Duran, and Jason Bare, check out this App!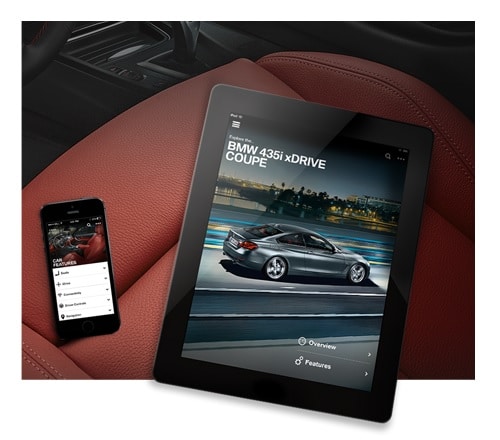 BMW Genius Hotline
Curious about a vehicle feature you've never experienced? Call our BMW Genius Hotline where our dedicated team is available to help answer all of your product related questions. For your convenience, you can also save this number in your vehicle. If you aren't sure how, please call us and we would be happy to assist you.

BMW Genius Hotline - 1.844.4GENIUS (443-6487)
Available Monday through Friday, 9:00am-9:00pm (EST)